EU conference focuses on safety in children and young people's sports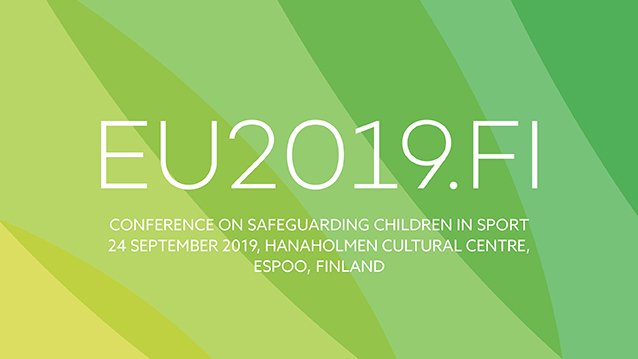 The Conference on Sport will discuss how children and young people can stay safe when engaging in sports and physical activity. The conference will bring together some 120 sporting professionals, influencers and decision-makers at Hanaholmen Cultural Centre on 24 September.
How to ensure that as many children as possible can have a safe environment for playing sport and getting active? What are the risks associated with children and young people's sports? What concrete means do sport policy and various sports actors have at their disposal to achieve a safer environment for sports?
Despite the numerous undisputed benefits of sport, children and young people do face risks when they engage in physical activity. The risks may range from being put under too much physical or mental strain to being exposed to bullying or sexual harassment.
The aim of the conference is to compare practices in different countries and to find ways to prevent both mental stress and physical injuries. The conference will discuss children's rights, the responsibilities of sports organisations and coaches, good governance and the prevention of abuse and harassment.
The promotion of safe sports for children and young people is discussed by Susan Greinig from the International Olympic Committee, Iris Hugo-Bouvier from UEFA, coach Jani Westerlund and researchers Sami Kokko (University of Jyväskylä) and Aurelie van Hoye. In addition, the conference will present some successful international EU projects in this area.
Minister of Science and Culture Hanna Kosonen and Commissioner Tibor Navracsics will open the conference.
According to Minister Kosonen, the theme of the conference is one of the key issues debated as part of in Finland's national and international sports policy. "Every child and young person must have the right to play sport and exercise in a safe and secure environment. Making sure that children and young people can have a safe space in which to enjoy sport is one of the priorities of Finland's Presidency in the field of sport."
Inquiries: Mikko Missi, Senior Ministerial Adviser, tel. +358 295 330 028
Twitter: #BeActive #SportsConf #EU2019FI
European Week of Sport
On 23 September, Finland will also co-host with the European Commission the official opening of the European Week of Sport. The opening event will take place in connection with the School Action Day, a sports event for 10,000 schoolchildren.
The European Week of Sport is an initiative of the European Commission that aims to promote sport and physical activity across Europe. Finland will organise more than 20 regional events that will inspire more than 80,000 children and young people to get active. In Finland, the European Week of Sport is coordinated by the Finnish National Agency for Education. The official opening ceremony of the European Week of Sport will take place on 23 September in Espoo, in connection with the School Action Day.