Visual arts in Finland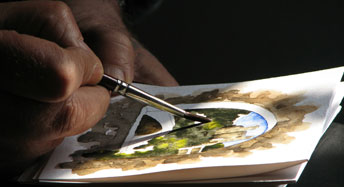 Visual arts comprise painting, sculpting, graphics, photography, media and cartoon art, arts and crafts, performance and location-based art. The Ministry of Education and Culture funds visual arts with appropriations from the general Budget and prepares legislation related to the field.
The National Council for Visual Arts and the National Council for Audiovisual Arts act as the expert bodies in the field of visual arts.
The Ministry of Education and Culture supports national visual arts, photography, cartoon and media art organisations by funding their activities. Funding is also granted to art museums and photography museums. The State Art Commission, which operates as part of the Finnish National Gallery, acquires artwork for buildings owned and used by the Government.
The Ministry of Education and Culture also supports the promotion of the percentage principle, which aims at reserving a portion of the funding during the construction public buildings for art procurements.
Frame Contemporary Art Finland is an expert organisation, which is tasked with strengthening the status and visibility of Finnish modern art, supporting international activities and promoting cooperation. Frame acts as the PR centre for modern art. The foundation's activities are funded by the Ministry of Education and Culture.