Unga inom Avartti-programmet belönades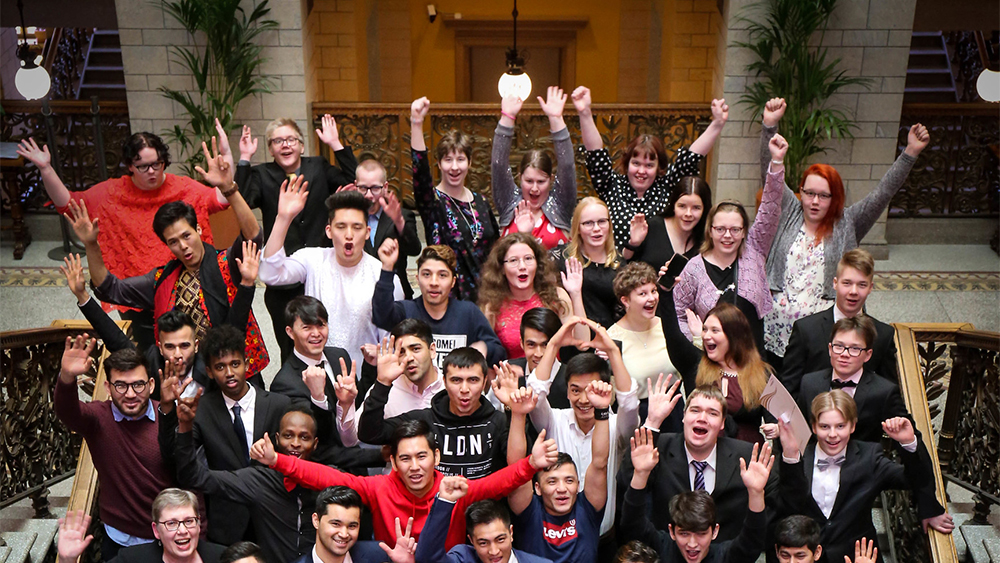 Totalt 29 unga belönades med Avartti-pris för sitt deltagande i det internationella hobbyprogrammet för unga. Två guldmärken och 27 bronsmärken delades ut. Prisen delades ut på distans av forsknings- och kulturminister Annika Saarikko torsdagen den 29 april.
Avartti är ett internationellt hobbyprogram för unga i åldern 14–24. Programmets verksamhetsidé är att stödja ungas helhetsmässiga uppväxt, stärka deras delaktighet och möjligheter att påverka samt ge dem färdigheter att delta på lokal och samhällelig nivå.
- Jag vill gratulera er unga för att ni är engagerade i Avartti-programmet och för att ni på lång sikt har lärt er nya färdigheter och beredskaper. Med priset belönas ihärdighet och ett öppet sinne, och idag är det er tur att fira er bedrift. Det har ni förtjänat, säger minister Annika Saarikko.
Minister Saarikko tackade därtill Avartti-programmet för dess arbete för att stödja ungas utveckling.
- Programmet har goda nätverk i såväl Finland som internationellt, och som en av de serviceorganisationer på ungdomsområdet som får allmänt understöd i Finland har programmet en egen stark ställning inom ungdomsarbetets fält.
- Jag är säker på att Avartti har gjort en positiv skillnad för dig och att du själv kommer att göra skillnad i andra människor liv, sade ordföranden för det internationella rådet för Avartti-programmet, jarlen av Wessex, prins Edward i sitt gratulationstal till ungdomarna.
Inom Avartti kan varje ung person skapa sitt eget program genom att välja hobbyer och mål utifrån sina egna intressen. Avartti-programmet består av tre nivåer och fyra delar. Efter att ha genomfört den valda nivån belönas deltagaren med ett brons-, silver- eller guldmärke och ett internationellt intyg över deltagandet i Avartti-programmet.
Internationellt är Avartti känt under namnet The Duke of Edinburgh's International Award. Varje år deltar miljontals unga från 130 länder i programmet. Programmet inleddes i Storbritannien år 1956.
De prisbelönta unga per nivå:
Guld
Mohammad Kazemi, Kajana
Yasin Nazari, Kajana
Brons
Hamzeh Elsad, Esbo
Ali Elsad, Esbo
Hamzat Dabaev, Esbo
Muhammed Sherzay, Esbo
Mohammed Elsad, Esbo
Vicheth Khoem, Esbo
Khalid Abdikarin, Esbo
Max Perunka, Uleåborg
Pyry Kylli, Uleåborg
Annina Virpi, Uleåborg
Esteri Majuri, Uleåborg
Pinja Lohi, Uleåborg
Elias Aho, Muhos
Markus Pakka, Alavus
Alpo Hult, Alavus
Eevert Perälä, Alavus
Rasmus Kauppinen, Alavus
Andrey Bogatenko, Alavus
Niklas Kuusiniemi, Alavus
Zahra Shirzad, Kerava
Yalda Amini, Helsingfors
Leila Amini, Helsingfors
Fatema Rezaei, Sibbo
Narges Amiri, Helsingfors
Maryam Mohammadi, Kervo
Hassan Hosseini, Helsingfors
Joona Heikkinen, Suomussalmi
Ytterligare information: Programkoordinator Suvi Viljanen, tfn 045 323 3464, suvi.viljanen(at)avartti.fi