Avartti-ohjelmassa kunnostautuneille nuorille tunnustuksia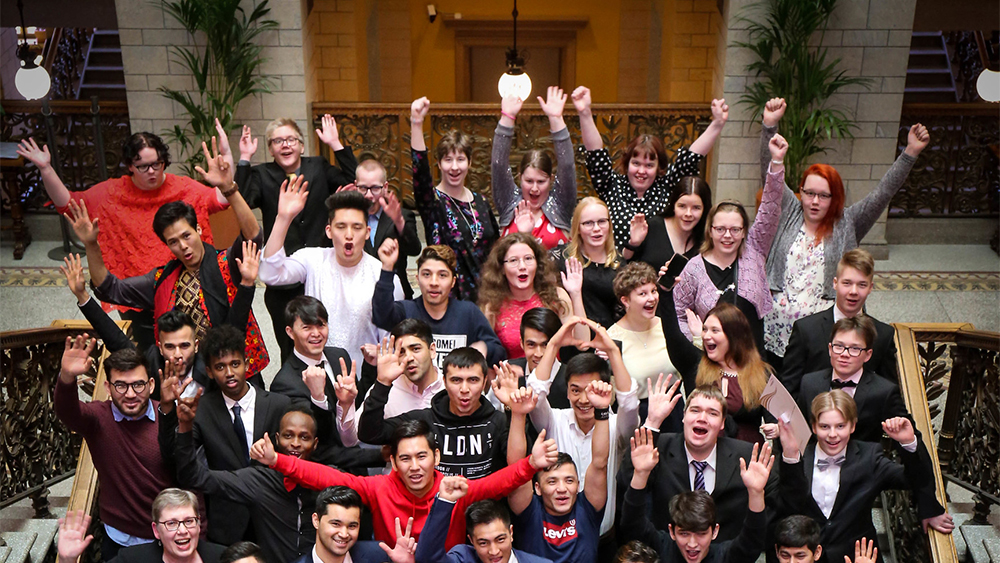 Yhteensä 29 nuorta on palkittu Avartti-tunnustuksilla osallistumisesta kansainväliseen nuorten harrastusohjelmaan. Kultaisia tunnustuksia jaettiin kaksi ja pronssisia tunnustuksia 27. Palkinnot jakoi etäyhteyksin tiede- ja kulttuuriministeri Annika Saarikko 29. huhtikuuta.
Avartti on kansainvälinen 14–24-vuotiaiden harrastusohjelma, jonka toiminta-ajatuksena on tukea nuoren kokonaisvaltaista kasvua, vahvistaa osallisuutta ja vaikuttamismahdollisuuksia sekä antaa valmiuksia toimia paikallisella ja yhteiskunnallisella tasolla.
- Haluan onnitella teitä nuoria siitä, että olette sitoutuneet Avartti-ohjelmaan, ja olette pitkäjänteisesti opetelleet uusia taitoja ja valmiuksia. Uutteruus ja avoin mieli palkitaan, ja tänään on teidän vuoronne ansaitusti juhlia saavutustanne, sanoi ministeri Annika Saarikko.
Ministeri Saarikko kiitti lisäksi Avartti-ohjelmaa nuorten kasvun tukemisen eteen tehdystä työstä.
- Hyvin verkottuneena, niin Suomessa kuin kansainvälisestikin, ohjelmalla on oma, vahva asemansa nuorisotyön kentällä yhtenä Suomessa yleisavustusta saavista nuorisoalan palvelujärjestöistä.
- Uskon, että Avartti on tehnyt positiivisia muutoksia sinussa ja että sinä puolestasi tulet tekemään muutoksia muiden ihmisten elämässä, sanoi Avartti-ohjelman kansainvälisen neuvoston puheenjohtaja, Wessexin jaarli prinssi Edward onnittelupuheessaan nuorille.
Avartissa jokainen nuori voi muodostaa oman näköisen ohjelman valitsemalla harrastukset ja tavoitteet omista kiinnostuksista lähtien. Avartti-ohjelma koostuu kolmesta tasosta ja neljästä osiosta. Tehtyään valitsemansa tason osallistuja saa tunnustuksen, joka on pronssinen, hopeinen tai kultainen merkki sekä kansainvälisen todistuksen osallistumisesta Avartti-ohjelmaan.
Kansainvälisesti Avartti tunnetaan nimellä The Duke of Edinburgh's International Award. Vuosittain ohjelmaan osallistuu miljoonia nuoria 130 maassa. Ohjelma aloitettiin Isossa-Britanniassa vuonna 1956.
Tunnustuksen saaneet nuoret tasoineen:
Kulta
Mohammad Kazemi, Kajaani
Yasin Nazari, Kajaani
Pronssi
Hamzeh Elsad, Espoo
Ali Elsad, Espoo
Hamzat Dabaev, Espoo
Muhammed Sherzay, Espoo
Mohammed Elsad, Espoo
Vicheth Khoem, Espoo
Khalid Abdikarin, Espoo
Max Perunka, Oulu
Pyry Kylli, Oulu
Annina Virpi, Oulu
Esteri Majuri, Oulu
Pinja Lohi, Oulu
Elias Aho, Muhos
Markus Pakka, Alavus
Alpo Hult, Alavus
Eevert Perälä, Alavus
Rasmus Kauppinen, Alavus
Andrey Bogatenko, Alavus
Niklas Kuusiniemi, Alavus
Zahra Shirzad, Kerava
Yalda Amini, Helsinki
Leila Amini, Helsinki
Fatema Rezaei, Sipoo
Narges Amiri, Helsinki
Maryam Mohammadi, Kerava
Hassan Hosseini, Helsinki
Joona Heikkinen, Suomussalmi
Lisätietoja: ohjelmakoordinaattori Suvi Viljanen, p. 045 323 3464, suvi.viljanen(at)avartti.fi