Young people with achievements in an International Award programme receive recognition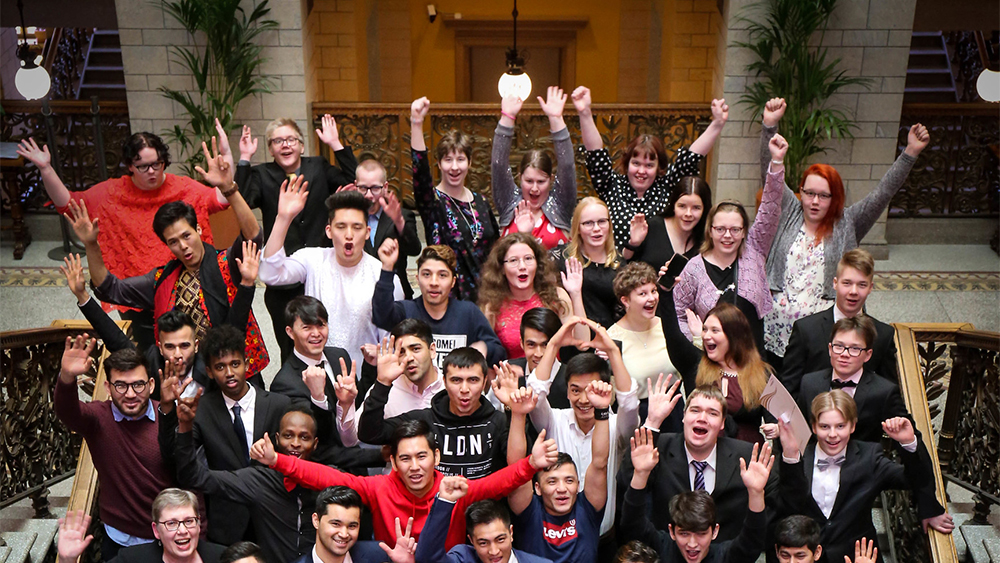 Altogether 29 young people were awarded for participating in the international Award programme (Avartti) for recreational activities. Two gold awards and 27 bronze awards were presented. The prizes were awarded remotely by Minister of Culture and Science Annika Saarikko on 29 April.
The Award is a global framework for 14-24-year-olds, which helps young people grow, participate, engage and act in their community both locally and more broadly in society.
"I would like to congratulate all of you on your commitment to the Award programme and for your perseverance in learning new skills and capabilities. Diligence and an open mind deserve to be rewarded, and today is your turn to celebrate your achievements," Minister Annika Saarikko said.
Minister Saarikko also thanked the programme for the work done to support young people's growth.
"I trust you feel that the Award has made a difference in you and that you will continue to make a difference in others around you," said His Royal Highness The Earl of Wessex KG GCVO and Chairman of Trustees of The Duke of Edinburgh's International Award Foundation in his speech to the young people.
When doing the Award, each young person designs and creates their own bespoke programme, choosing recreational activities and goals based on interests unique to them. The programme consists of three levels and four sections. Once the participants have completed their chosen level, they receive recognition in the form of a bronze, silver or gold award as well as an international certificate for participating in the programme.
Internationally, the Award is known as The Duke of Edinburgh's International Award. It operates in more than 130 countries and territories. The programme was launched in the United Kingdom in 1956.
Award recipients and their levels:
Gold
Mohammad Kazemi, Kajaani
Yasin Nazari, Kajaani
Bronze
Hamzeh Elsad, Espoo
Ali Elsad, Espoo
Hamzat Dabaev, Espoo
Muhammed Sherzay, Espoo
Mohammed Elsad, Espoo
Vicheth Khoem, Espoo
Khalid Abdikarin, Espoo
Max Perunka, Oulu
Pyry Kylli, Oulu
Annina Virpi, Oulu
Esteri Majuri, Oulu
Pinja Lohi, Oulu
Elias Aho, Muhos
Markus Pakka, Alavus
Alpo Hult, Alavus
Eevert Perälä, Alavus
Rasmus Kauppinen, Alavus
Andrey Bogatenko, Alavus
Niklas Kuusiniemi, Alavus
Zahra Shirzad, Kerava
Yalda Amini, Helsinki
Leila Amini, Helsinki
Fatema Rezaei, Sipoo
Narges Amiri, Helsinki
Maryam Mohammadi, Kerava
Hassan Hosseini, Helsinki
Joona Heikkinen, Suomussalmi
Inquiries: Suvi Viljanen, Programme Coordinator, tel. +358 45 323 3464, suvi.viljanen(at)avartti.fi