Den europeiska audiovisuella branschens experter samlas i Helsingfors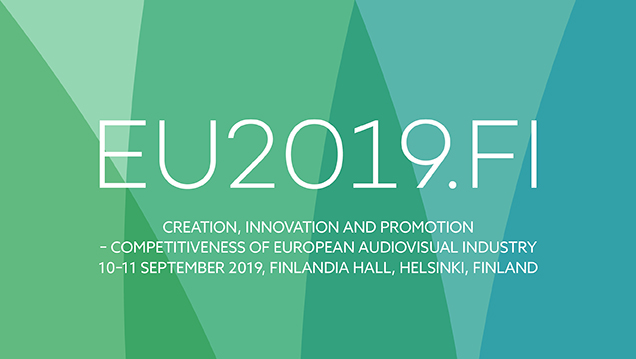 Den audiovisuella branschen är i den europeiska digitala inre marknadens kärna. Konferensen #EUAV2019 (Creation, Innovation and Promotion – Competitiveness of European Audiovisual Industry) samlar över 200 av den audiovisuella branschens experter i Helsingfors den 10–11 september 2019.
Denna EU-ordförandeskapskonferens har som mål att lyfta fram betydelsen av den audiovisuella branschen och den audiovisuella branschens möjligheter som lokomotiv i den europeiska ekonomin och särskilt som sysselsättare av unga.
Den tekniska utvecklingen, de snabba förändringarna i omgivningen och den audiovisuella branschens allt hårdare globala konkurrens är en utmaning för branschen, men samtidigt erbjuder dessa utmaningar många nya möjligheter att skapa immateriellt värde, när möjligheterna att använda audiovisuellt innehåll ökar i olika sammanhang och kanaler.
Temana vid konferensen är bland annat kunskapsutveckling och de möjligheter inom forskning och innovation med bred kompetens som den europeiska audiovisuella industrin har, utnyttjande av ny teknik, jämställdhet mellan könen samt främjande av högklassigt europeiskt innehåll genom ett allt starkare samarbete.
Konferensen öppnas av forsknings- och kulturminister Hanna Kosonen.
Följ direktsändningen från konferensen
Mer information fås av Laura Mäkelä, kulturråd, tfn +358 295 330 222
Twitter: #EUAV2019 #EU2019FI
Andra webbplatser