Euroopan audiovisuaalisen alan asiantuntijat koolla Helsingissä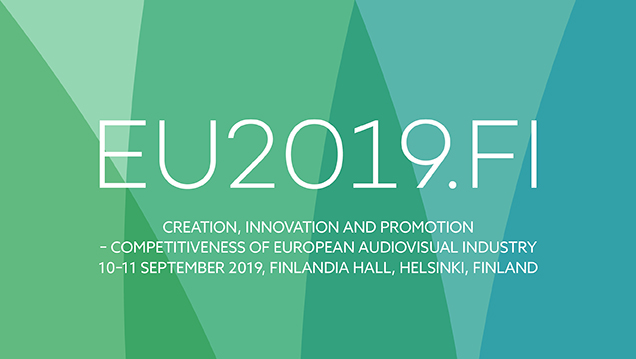 Audiovisuaalinen ala on eurooppalaisen digitaalisen sisämarkkinan ytimessä. #EUAV2019 -konferenssi (Creation, Innovation and Promotion – Competitiveness of European Audiovisual Industry) kokoaa yli 200 audiovisuaalisen alan asiantuntijaa Helsinkiin 10.–11.9.2019.
EU-puheenjohtajuuskonferenssin tavoitteena on nostaa esiin audiovisuaalisen alan merkitystä ja mahdollisuuksia Euroopan talouden veturina ja erityisesti nuorten työllistäjänä.
Teknologinen kehitys, nopeasti muuttuva toimintaympäristö ja alan kiristyvä globaali kilpailu haastavat audiovisuaalista alaa, mutta tarjoavat samalla paljon uusia mahdollisuuksia aineettoman arvon luomiselle, kun audiovisuaalisten sisältöjen käyttömahdollisuudet kasvavat eri yhteyksissä ja eri kanavissa.
Audiovisuaalisen alan EU-puheenjohtajuuskonferenssin teemoina ovat muun muassa osaamisen kehittäminen ja laajapohjaisen tutkimus- ja innovaatiotoiminnan mahdollisuudet Euroopan audiovisuaaliselle teollisuudelle, uuden teknologian hyödyntäminen, sukupuolten välinen tasa-arvo sekä eurooppalaisten laatusisältöjen edistäminen entistä vahvemman yhteistyön kautta.
Konferenssin avaa tiede- ja kulttuuriministeri Hanna Kosonen.
Seuraa suoraa lähetystä konferenssista
Lisätietoja: kulttuuriasiainneuvos Laura Mäkelä, p. 0295 330 222
Twitter: #EUAV2019 #EU2019FI
Muualla verkossa