Minister Kurvinen at Venice Biennale: Art and culture strengthen solidarity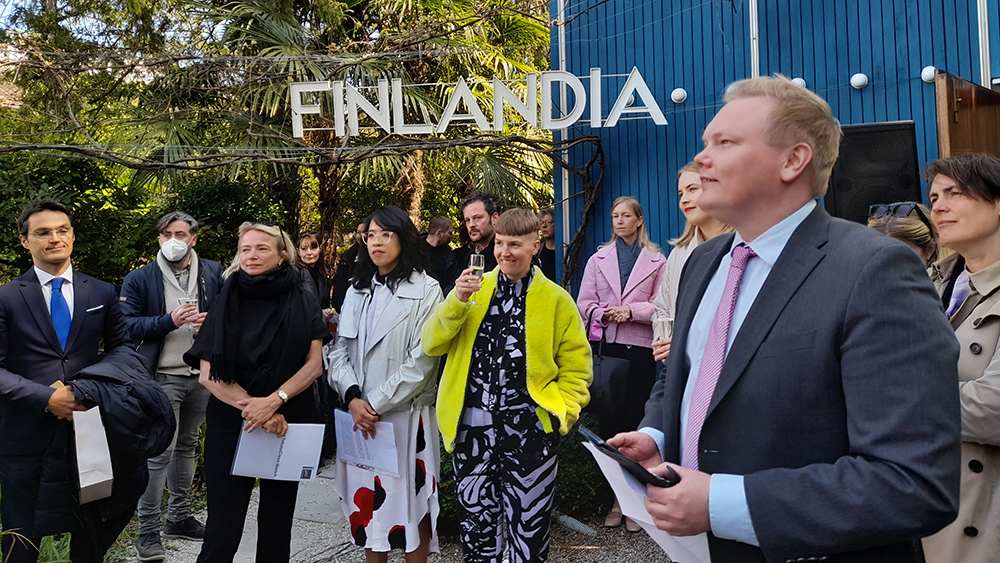 Minister of Science and Culture Antti Kurvinen is currently visiting the 59th International Art Exhibition – La Biennale di Venezia. On Wednesday 20 April, Minister Kurvinen opened the Pavilion Finland which premieres Pilvi Takala's video installation Close Watch.
"After the COVID-19 years that have affected the entire field of art and culture, it is excellent that international gatherings focusing on art are now possible again. The exhibition in the Pavilion of Finland is a great way if showing how everyday things can suddenly look very different through art," says Minister of Science and Culture Kurvinen. "Visibility in a major event, such as the Venice Biennale, brings international boost for the magnificent Finnish modern art."
Close Watch is a multi-channel video installation. It is based on Takala's experience in the private security industry where she worked covertly as a fully qualified security guard. Exploring security as both a concept and an industry, Close Watch considers how it defines our public space and the behaviour tolerated within it.
Minister Kurvinen's programme includes visits to the Nordic, Estonian and Ukrainian Pavilions
Minister Kurvinen will also attend the opening of the Nordic Pavilion. The Nordic Pavilion, coordinated by Norway, is renamed to the Sámi Pavilion for the exhibition's 2022 edition. The Sàmi Pavilion shows the works by Pauliina Feodoroff, Máret Ánne Sara and Anders Sunna. The Minister will also visit the Pavilions of Estonia and Ukraine.
"At the moment, the need for international cooperation and solidarity is particularly strong. Art has a lot to offer in this respect through the encounters and discussions it enables. It also opens up new avenues for handling difficult topics," the Minister says.
The Venice Biennale Art Festival is the oldest modern art biennale in the world. It is held every two years and it brings together exhibitions from several countries to the Giardini della Biennale park. In 2022, 80 countries will participate in the Biennale. The Biennale will be open to the public between 23 April and 27 November 2022.
Commissioned and produced by Frame Contemporary Art Finland, the exhibition in the Pavilion of Finland is curated by Christina Li.
Inquiries:
Klaara Tapper, Special Adviser to the Minister, tel. +358 50 566 7106
Emma Harju, Specialist, tel. +358 50 440 1063
The 59th International Art Exhibition of La Biennale di Venezia, titled The Milk of Dreams
Venice Biennale 2022 (Frame Contemporary Art Finland)