Sustainable development policy in the administrative sector of the Ministry of Education and Culture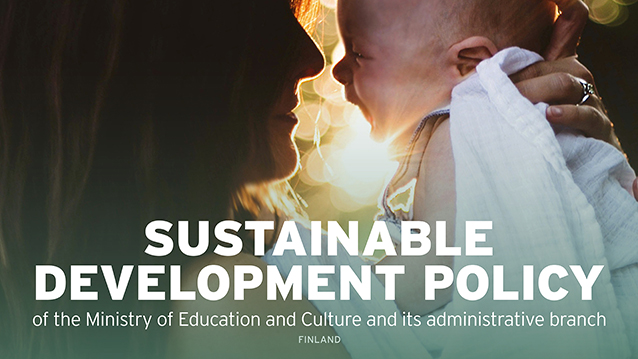 A working group set up by the Ministry of Education and Culture has prepared guidelines for ensuring that activities of the administrative branch are based on a sustainable foundation. The administrative branch of the Ministry of Education and Culture is specifically responsible for strengthening social sustainability, including culture and people's wellbeing.
The 2030 Agenda for Sustainable Development was adopted by the UN in September 2015. The 2030 Agenda constitutes the first action plan and set of goals concerning the implementation of sustainable development for the UN Member States. In accordance with the Government Programme, Finland will shoulder its global responsibility, work actively and be at the forefront in the implementation of the Sustainable Development Goals (SDGs) of the 2030 Agenda. In its own Strategy, the Ministry of Education and Culture has promised to strengthen its international impact and global responsibility and committed to sustainable development.
In 2017, the Ministry of Education and Culture set up a working group on sustainable development to promote the SDGs and their implementation. In line with its mandate and based on an open consultation process, the working group drafted a Sustainable Development Policy. The consultation process consisted of workshops and online meetings with actors and stakeholders representing the Ministry's administrative sector.
Achieving the goals of the 2030 Agenda require that education and skills and competences are strengthened. We can contribute to the promotion of all goals of the 2030 Agenda by means of education, research, cultural, youth and sport policies. This refers, for example, to equal rights to cultural engagement, high standards of early childhood education and care, better skills and a higher level of education, continuous learning, accessibility of information and cultural rights. Measures taken in the Ministry's administrative branch promote a cultural change, which is a prerequisite for a shift towards comprehensive sustainable development
The Ministry of Education and Culture monitors and assesses the implementation of the policy in its different sectors and throughout its administrative branch.
Inquiries:
- Satu Heikkinen, Senior Ministerial Adviser, tel. +358 295 330 102
- Riina Vuorento, Senior Ministerial Adviser, tel. +358 295 330 363