Senior Specialist in higher education and science policy to strengthen cooperation in higher education and research between Finland and the United Kingdom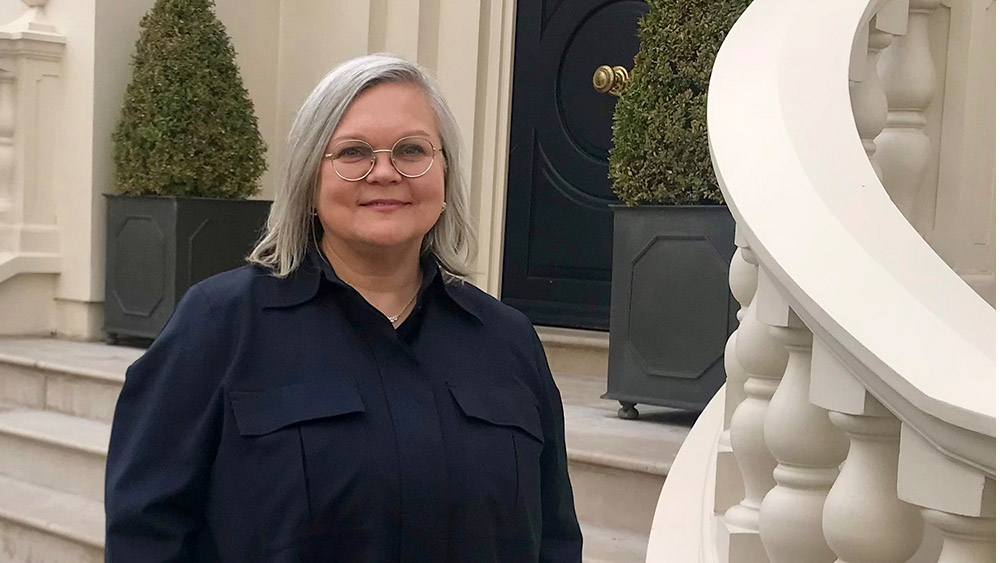 Birgitta Vuorinen joined the Finnish Embassy in London in early January as a senior specialist in higher education and science policy. She relocated to London from the Ministry of Education and Culture, where she worked as Director of the Division for Higher Education Policy. The UK thus became the ninth area of expertise for the Team Finland Knowledge network. Vuorinen's task is to follow higher education and science policy in the UK, foster opportunities for cooperation, promote Finland's visibility, and assist Finnish higher education institutions, research institutes and other innovation ecosystem stakeholders in their endeavours for closer cooperation with British parties.
The Team Finland Knowledge network consists of eight other higher education and science senior specialists stationed in different countries. Besides London, there are senior specialists in Abu Dhabi, Buenos Aires, Moscow, New Delhi, Beijing, Pretoria, Singapore and Washington. The Team Finland Knowledge senior specialists work in Finnish missions abroad in close cooperation with the TeamFinland network. The network helps Finnish stakeholders to access effective RDI networks and promotes education-based immigration.
Due to its common history with the European Union, the UK differs from the rest of the countries in which Team Finland Knowledge operates. The role of EU programmes has been instrumental in promoting mobility and research cooperation between our two countries, and collaboration between the EU Member States still plays a key role in building a new kind of partnership between the UK and the EU.
- Cooperation with other EU countries will also be strongly involved when building bilateral relations, says Birgitta Vuorinen.
What happens to cooperation with higher education institutions and mobility between countries?
Finnish and British universities have many bilateral agreements and research cooperation is close. Both countries have set ambitious goals for boosting RDI funding and becoming more international, which also provides a good basis for building effective RDI networks and partnerships.
Finland belongs to eleven networks of European universities that are working on new collaborative forms between higher education institutions as well as cross-border collaboration in teaching. Two networks of Finnish higher education institutions also include a British university. The networks receive funding from both Erasmus+ and Horizon. The terms of the programme funding guide the activities, so the UK's withdrawal from the EU and any agreements on programme cooperation will be reflected in the activities of the networks in the future.
The UK reached its 2030 target of 600,000 international degree students ten years ahead of schedule. A significant percentage of the revenue of British universities is composed of tuition fees, which means that international degree students are also of financial consequence. Following its withdrawal from the EU, the tuition fees of international degree students in the UK have risen, and in some cases even quadrupled. Higher costs, restrictions on entry to the country, the COVID-19 pandemic and more opportunities for distance learning as a result of the pandemic means that the number of applicants and admissions from EU countries to the UK has dropped. For example, the number of Finnish applicants in the main round of applications was approximately one thousand in 2015-2016, whereas in 2021 it was down to a mere 240. However, the UK still wishes to attract international degree students, and it has now shifted its focus to recruiting them from Asia and Africa in particular. Statistics published in early February show that the total number of international degree students enrolled in UK universities increased by 4% from the previous year.
Finland aims to triple its number of international degree students by 2030. British students do not have high incentives to pursue degree studies abroad because the UK offers an abundant supply of higher education institutions and provides a lending concept that balances out tuition fees and includes means testing that takes income levels into account. However, the UK advances student mobility by means the Turing programme, which supports UK students' studies abroad. A total of £330 million in funds will cover at least the next three years. Thus, the UK is looking for its own students to become more international, while Finland wants to increase the number of foreign degree students and exchange students. Both countries need skilled labour, so the desire to employ highly educated people is great. Making sure that different policy areas in talent attraction are interoperable is important. For this reason, both the UK and Finland are currently reviewing their entry regulations, among other things.
- For example, the entry of trainees into the UK is challenging at the moment, and we want to draw the British government's attention to it together with the other EU Member States, Birgitta Vuorinen says.
Inquiries: