Ministry of Education and Culture's branch of public administration in the general government plan 2018-2021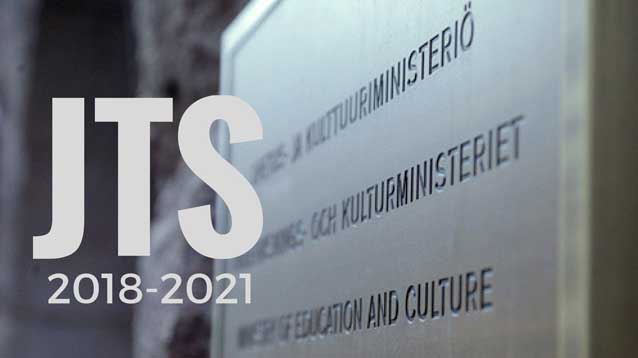 The government has on 28 April 2017 agreed on the general government finance plan for 2018-2021. The level of the allocated appropriation for the Ministry of Education and Culture is 6.3 billion euros in 2021. Additional 340 million euros will be allocated to know-how, of which 200 million will come from the budget and 140 million for education and research will be allocated as capitalisation.
In the coming years, the government will invest in know-how and the welfare of children and youth. Investments in cutting-edge research and in the impact of research will be increased. The fees for early childhood education will be reduced. Equality-related financing for comprehensive schools will be doubled. The vocational education and training reform will receive financial support. Funds will also be allocated for the prevention of marginalisation of young people.
- The government added major funding to education and research in its budget meeting. Finland aims for growth based on know-how and wants to be the best country for education in the world also in the future, says minister for education and culture Sanni Grahn-Laasonen.
Additional 143 million euros for research
There will be investments in cutting-edge research in and the effectiveness of research. 50 million euros will be set side for appropriation by The Academy of Finland for 2018 and 2019 for the implementation of flagship research clusters. The flagships will be established in connection with universities and research facilities. In addition, the government will make preparations to take part in the financing and development of the flagship research clusters by capitalisation of 60 million euros during the initial stage.
The flagship program strengthens the top level of Finnish research and supports, together with the innovation network, the effectiveness of the impact that research has on society and on economic growth. The program that brings changes to structures and ways of working connects experts who are characterized by high level of scientific achievement and the pursuit for international level of excellence. The flagship program aims to raise awareness of Finnish universities nationally and internationally.
Areas of research with themes that have a high level of importance and a national effect will be chosen to be part of the program, along with the strongest research teams with the highest merits. The effectiveness of the research teams that supports society and economic growth will be built on development environments together with businesses, and this effectiveness will form a vital part of the research teams' work, secured with the aid of separate funding.
The financing for the flagships is temporary and it is based on a strict assessment of effectiveness and quality. They will have close but flexible ties to businesses in growing and other industries with which they will work closely with. The flagship research clusters are used to search for areas that have strong know-how and many additional possibilities for promoting growth.
I am glad that the government decided to add funding for research and innovation in universities. We will immediately begin, together with Academy of Finland and universities, to prepare a process we will use in choosing the new types of best units for research (so called flagships) and begin working on them, says chief secretary Anita Lehikoinen, who was the chairperson of the preliminary group set up by the government last autumn for preparing alternative additional funding models.
33 million euros will be allocated to the development of data management and high speed computing. The development program is used to raise the research infrastructure of the industry to international level and to strengthen the research and education related to artificial intelligence.
The internationalisation policies for higher education and research will be implemented as part of the Talent Boost program which is used to attract international talent to Finland. As part of the Business Finland entity, to increase the internationalisation of the higher education and research system, a Team Finland Knowledge network will be set up to represent Finnish higher education and research in selected countries.
An additional 2,4 million euros will be allocated in 2018-2021 to the polytechnic education for mechanical timber construction.
– As part of the employment and entrepreneurship packages, the government also decided to continue the funding of the innovation voucher, and the level of funding for it will be increased. The innovation voucher has proven to be a good way of promoting cooperation in research and product development. especially between small and medium sized businesses and polytechnic schools, says minister Grahn-Laasonen.
Lower fees for early education
The fees for early education will be decreased. The amount of families who do not have to pay any fees will number 6,700. The fees for low and middle-income families will be reduced and the discount for a second child in day care will be raised to 50%. The new levels for non-paying of fees follow the definition of small incomes which has been raised by 500 euros. This decreasing of fees is estimated to cut payments made to communities by 70 million euros.
Family
Children in early childhood care
Total income 2200 euros per month
Total income 3500 euros per month
Total income 5000 euros per month
Fee now
Estimated change
Fee now
Estimated change
Fee now
Estimated change
Single parent
1 child
33 euros per month
0 euros per month
182 euros per month
155 euros per month
290 euros per month
290 euros per month
2 children
27 euros per month
0 euros per month
283 euros per month
137 euros per month
551 euros per month
378 euros per month
2 parents
1 child
27 euros per month
0 euros per month
149 euros per month
91 euros per month
290 euros per month
252 euros per month
2 children
0 euros per month
0 euros per month
217 euros per month
80 euros per month
442 euros per month
321 euros per month
More nursery school teachers for day care centres will be trained. 28 million euros will be allocated for 2018-2021 for the development of the staffing structure for early childhood education. The aim is to strengthen the quality of early childhood education and pedagogy, and to increase the multi professional support that children and families receive.
Strengthening equality in comprehensive schools
Funding for strengthening equality in comprehensive schools will be doubled by adding 15 million euros to this purpose in 2018-2019. The monies are targeted for example to special education and lowering the teacher/student ratio by increasing resources in schools in areas where there is a lot of unemployment, a lower average level of education or a larger proportion of people who speak a foreign language.
New measures of the prevention of marginalisation of children and youth
The government approved a program for increasing the welfare of children and young people, to preventing marginalisation, and to reducing the number of young people who remain outside of education and employment. The actions are financed by the budgets of the ministries' own branches of government as well as key projects already taking place. Additional funding for the 19 step program was also allocated for.
– The marginalisation of youth and their remaining outside of education and working life is a big, serious problem. The government decided on 19 actions to prevent marginalisation of young people. It all starts by supporting early childhood education and families. The government guaranteed the continuation of the Ohjaamo activities and the funding of the municipal youth work and workshops looking for the young people in danger of marginalisation. In the Ohjaamo program, the youth are helped forward on the path of education and working life, says minister Grahn-Laasonen.
Upper secondary school education to be renewed
The upper secondary school reform will be implemented. The aim is to increase the attractiveness of upper secondary school education as a form of general education that gives students an opportunity to continue to universities, to strengthen the quality of education, learning outcomes and makes it easier to move from upper secondary level of education to a higher level of education.
The implementation of the vocational education reform will receive 30 million euros
15 million euros will be allocated for supporting the implementation of the vocational education reform in 2018 and 2019. The money is used for digitizing the working processes of vocational education according to its aims, for preventing dropping out and marginalisation, and for building education and working life paths together with working life for the young people and adults who are outside of education and working life.
The ministry is also prepared to capitalise the knowledge centre that owns and maintains learning environments and tools of vocational education or other company by 80 million euros in total.
75 euro raise to parents in student financial aid
To secure the finances of students with families, the monthly amount of parental support will be increased by 75 euros. The change is estimated to raise government spending by 10 million euros per year.
Creative economy will be strengthened
Creative industries will be added as part of the government's entrepreneurship and employment policies and related support measures for growth and internationalisation. The pension coverage situation of artists who are not in employment and are paying for Farmers Pension Insurance or Entrepreneur's pension Insurance is going to be clarified so that overlapping is avoided. Cultural travel is supported as part of travel promotion. The basic renovation of the small stage area of the National Theatre will begin in 2018. 2 million euros have been allocated for this purpose.
Links:
The Government agreed on new investments in growth and employment, Finnish government's press release 4/25/2017
Additional information:
- chief secretary Anita Lehikoinen, tel. + 358 295 3 30182 + 358 295 3 30182
- chief director Eeva-Riitta Pirhonen (general education, early childhood education and liberal adult education ), tel. + 358 295 3 30316
- chief director Mika Tammilehto (vocational education), tel. + 358 295 3 30308
- chief director Tapio Kosunen (higher education and science), tel. + 358 295 3 30440
- chief director Riitta Kaivosoja (culture and arts policy), tel. + 358 295 3 30129
- chief director Esko Ranto (youth and physical education policy), tel. + 358 295 3 30115
- special adviser Virpi Hiltunen (student financial aid), tel. + 358 295 3 30110
- financial manager Pasi Rentola (general economic planning), tel. + 358 295 3 30211
- financial secretary Timo Ertola (general economic planning), tel. + 358 295 3 30083
- special assistant Matias Marttinen, tel. + 358 295 3 30,132
- special assistant Heikki Kuutti Uusitalo, tel. + 358 295 3 30164