Four million euros granted to municipalities
Language teaching to start in the first school year and in early childhood education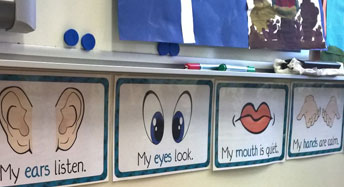 The National Agency for Education has granted a total of EUR 4,014,000 in special assistance to 96 different projects carried out by providers of basic education to develop, increase and introduce language teaching earlier in early childhood education, preschool education and basic education. Advancing the start of language teaching is part of the Government's key project for reforming the comprehensive school.
Discretionary government transfers are used to support experiments introducing teaching in the A1 and A2 languages earlier. The purpose is to extend the range of languages offered by introducing the first foreign languages earlier or by diversifying the languages offered to languages previously unavailable in the area. The aim is to encourage students, irrespective of their gender, municipality or socioeconomic or ethnic background, to choose and study languages beyond the minimum weekly hours.
The assistance is also used to support education providers to find new practices to introduce different languages and language learning already in early childhood education or preschool education. The projects are seeking new ways to make use of children's early language learning abilities.
The assistance can also be used to support other ways to seek comprehensive development in language teaching as well as establish language education as part of the overall operating culture in schools. The aim is to improve the competence of teachers and the whole school and early childhood education community to provide better language teaching and support in early language learning.
A total of EUR 4,014,000 was granted as discretionary government transfers to 96 education providers.
"Versatile language skills are among the most important skills in future. Children have a remarkable ability to learn new skills. Now almost every fourth municipality is organising experiments with a view to introducing the first foreign language in the first year of school or even earlier in early childhood education. A long-term objective is that every child could start learning a foreign language already in the first year of school," says Minister of Education and Culture Sanni Grahn-Laasonen.
"The experiments will give us information about what kinds of development measures can increase both the range and studying of languages. We are also seeking ways to promote early language teaching in early childhood education and preschool education, which means that the project have both structural and pedagogical aims," Director General Olli-Pekka Heinonen says.
The next call for applications to develop, increase and introduce language teaching earlier will be organised for education providers in late 2017. The focus will be on ensuring that the education providers that have already received assistance can continue their experiments.
Inquiries:
Anu Halvari, Counsellor of Education, National Agency for Education, tel. +358 29 533 1277
Annamari Kajasto, Counsellor of Education, National Agency for Education, tel. +358 29 533 1596
Paula Mattila, Counsellor of Education, National Agency for Education, tel. +358 29 533 1144
Yvonne Nummela, Counsellor of Education, National Agency for Education, tel. +358 29 533 1523
The key project aiming to increase and diversify language teaching:
Matias Marttinen, Special Advisor (Press Relations), tel. +358 44 269 3113
Minna Polvinen, Counsellor of Education, Ministry of Education and Culture, tel. 358 29 533 0262