Reform of vocational upper secondary education
This reform updates the entire vocational education and training (VET) by 2018. In the future, work life requires a new kind of competence, while there are fewer financial resources available for education. VET has to respond more swiftly to the changes in work life and operating environment and to adapt to individual competence needs.
VET for young people and adults will be consolidated, forming a single entity with its own steering and regulation system and financing model. The current supply-oriented approach will be refocused into a demand-driven approach. Education will be competence-based and customer-oriented: Each student will be offered the possibility to design an individually appropriate path to finishing an entire qualification or a supplementary skill set. The primary importance is on what the student learns and is able to do.
Digital learning environments and new approaches to pedagogy (e.g. modern simulators) will have a larger role in the future of learning. Learning in the workplace will be increased.

In Finland, VET is organised by different types of education providers: municipalities, joint municipal authorities, the state and the private sector. An authorisation to provide education is required. In the future, education is regulated through a single authorisation license, and education providers will have increased freedom in organising their activities.

The reform includes examining the education provider network. VET will be available throughout the country in the future as well. The ministry will ensure that all education providers have sufficient professional and financial resources to provide education. Education providers are encouraged towards voluntary mergers.

There are up to 160 different vocational qualifications available in Finland. In the future, the number of qualifications will decrease, and qualification content will be broadened. This supports designing individual study paths and enables more rapid responses to the changing competence needs in work life.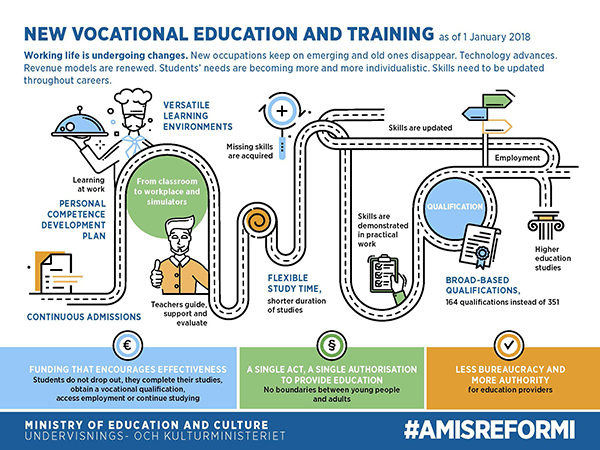 See bigger image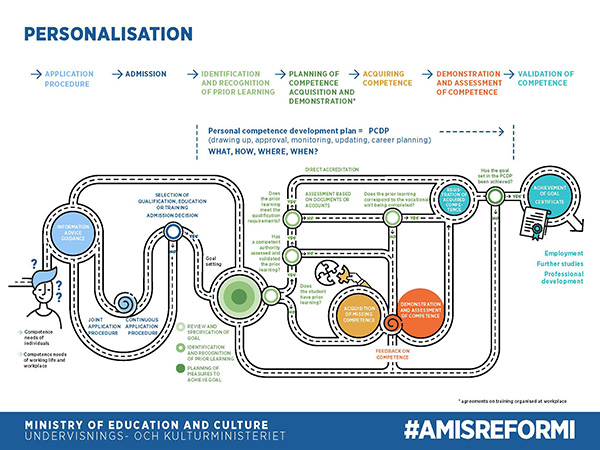 See bigger image