"Networks must be grouped into larger competence centres and ecosystems"
II New partnership model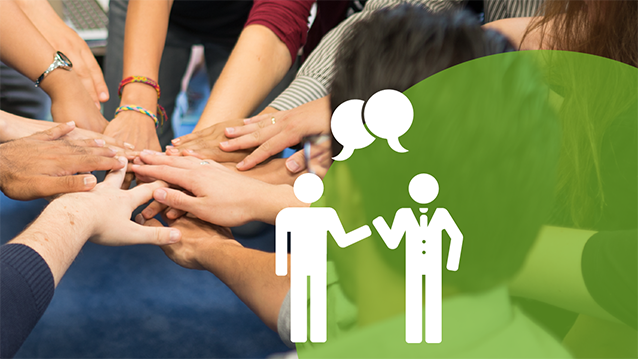 Finland has good starting points to succeed as a leading country in competence and innovations. Companies are key research partners and engines of making choices for higher education institutions and research institutions. In order to strengthen, broaden and increase the effectiveness of the competence spearhead, research and the networks that utilise it must be grouped into larger competence centres and ecosystems. Cooperation between higher education institutions, research institutions, companies and other RDI actors needs to be strengthened. To support this, a new partnership model will be developed, grouping national programme funding into larger packages and linking sources of EU and other international funding more strongly to support activities.
Practices will be added to public funding instruments that will enable long‑term, simultaneous development and renewal of the entire ecosystem. The new partnership model will combine the wish of companies for radical renewal, the simultaneous use of public funding instruments for the development of ecosystems (research, development and growth) and new operating models for testing, piloting and scaling innovations. Partnerships will be targeted at focused growth areas and identified ecosystems and will be selected on a competitive basis. The Research and Innovation Council plays a key role in the strategic policies and steering of the partnership model.
Climate change is one of the most significant drivers steering global growth in the 2020s, alongside other sustainable development goals. The goal of carbon neutrality set by the Government will not be achieved without new technologies and innovative solutions based on research. Digitalisation and the data economy will be the most significant drivers of change in the coming decade. Digitalisation will enable even shorter innovation cycles and rapid product testing on the market. Owing to the impact of digitalisation and the data economy, business logics are changing and new growth opportunities will open up for companies on the global market. The transition to a data economy will require significantly more data experts as well as meeting the needs of research and business. The availability, utilisation and interoperability of data must be increased across sectoral boundaries.
High‑quality research infrastructures and development environments, as well as the innovation ecosystems built on them, will attract experts to Finland, create networks and profile activities.
A new partnership model, ecosystems and infrastructures
9. The new sustainable growth will be built on competence, the balanced development of research and innovation activities, and partnerships with the support of the innovative public sector. Together with research organisations, financiers and the business community, the ministries are preparing a new, flexible public–private partnership (PPP) model to support the building of internationally competitive competence centres and billion‑euro business ecosystems in Finland. The building of company‑driven business ecosystems is supported by growth engine funding and the strengthening of high‑level competence centres with flagship funding. Other regional, national and international financial instruments and networks are also utilised in implementing the partnership model.
10. Business Finland is piloting a contractual and challenge‑based funding model with companies in order to strengthen long‑term RDI activities and to leverage substantial private RDI funding in Finland. The model will be developed in 2021 on the basis of an evaluation.
11. It will be ensured that increasingly more microenterprises and SMEs have access to the RDI system by developing low‑threshold RDI services and financial instruments (e.g. innovation voucher, development grant). The allocation of public R&D funding must take account of companies' possibilities to utilise R&D investments and increase business.
12. Through ecosystem agreements with university towns, the Ministry of Economic Affairs and Employment, the Ministry of Education and Culture and cities support the building of internationally attractive innovation clusters and the linking of thematic innovation networks to global value chains. Measures to promote work‑based immigration and education-based immigration will be included in ecosystem agreements.
13. Development package of research infrastructures and experimental environments.
13.1. The research infrastructure funding of the Academy of Finland will be increased. The aim is to bring a larger share of national research infrastructures than at present within the scope of centralised funding in order to strengthen the openness, quality and effectiveness of research.
13.2. Ministries, financiers and research organisations will develop the research and innovation environment for data management and computing (including high‑performance computing) and its services to meet the RDI needs of higher education institutions, research institutions and companies. The needs of quantum computing will also be taken into account in updating the research environment.
13.3. Together with RDI financiers, research organisations will develop shared and open experimental and test environments that can be utilised by domestic and foreign companies. Companies will be encouraged to open up their research infrastructures to wider use.
13.4. Research organisations, in cooperation with Tulanet, Unifi and Arene, will develop joint operating models and services in order to increase the sharing and utilisation of research infrastructures and testing environments.
14. The Government is investigating the introduction of a tax incentive for R&D activities. More detailed policies will be worked out no later than in the autumn 2020 government budget session.
15. Action plans supporting the utilisation of data for selected growth sectors will be drawn up in cooperation between the business community, administration, research organisations and other stakeholders. The availability of data will be improved and the rules for the use of data will be clarified from the perspective of companies, society and users. The utilisation of data will be supported by means of legislation, agreements and self‑regulation by sector.
Climate change and other societal challenges in RDI activities
16. The Academy of Finland and Business Finland are mapping research and product development related to climate change, carbon neutrality and biodiversity. On this basis, strong competence centres and blind spots important to carbon neutrality will be identified and further measures will be taken.
17. The Finnish Research Infrastructure Committee will examine the carbon footprint assessment practices of national research infrastructures and, on the basis of the information received, will decide on the harmonisation of carbon footprint assessment.
18. The ministries will ensure that Finland communicates consistently about the European Green Deal, emphasising the importance of competence and RDI activities, and about the Nordic Council of Ministers 2030 vision, and will utilise their RDI possibilities in implementation.
Effectiveness of research
19. Research organisations and financiers will strengthen competence associated with the further refinement and utilisation of research results and will develop service models and financial instruments supporting this.
19.1. Through targeted and phased funding, Business Finland and the Academy of Finland will support projects that have evidence and the best possibilities for utilisation in society and/ or commercial success.
19.2. The Ministry of Economic Affairs and Employment together with the Ministry of Education and Culture, in cooperation with the ministries, research organisations, financiers and the business community, will investigate the need for a national network‑like operating model for the further refinement and utilisation of research results. The operating model would strengthen innovation, commercialisation and IPR competence and accelerate the transfer of research results for the benefit of society.
20. Promote open practices and the availability and utilisation of data in RDI activities in order to increase its social impact. Openness practices and access to data take into account the needs of both transparency and commercial exploitation, protection of privacy and security. Openness practices support the quality and effectiveness of research and enable the wide‑ranging utilisation of research results.
International RDI cooperation
21. Taking into account the choices already made, the Ministry of Economic Affairs and Employment and the Ministry of Education and Culture, together with higher education institutions, research institutions and the business community, will identify the most important international competitive and growing competence centres relative to Finnish RDI, with which long‑term cooperation will be built and the mobility of researchers and experts will be increased. Activities of the Team Finland network will be developed in order to deepen research and innovation cooperation, strengthening market knowledge and networks, as well as coordinating local demand and Finnish supply. RDI actors will strengthen consistent country brand communications in international activities.
22. A centralised advisory service will be developed, which will bring together the services needed by all actors to support domestic and international RDI grants and financial instruments for compensation, and also to participate in international procurement. The main emphasis is especially on companies.
23. The share of EU and international funding in total R&D funding will be increased. In support of this, led by the Ministry of Economic Affairs and the Economy, a concrete action plan will be drawn up for the period 2021–2027 in order to utilise the RDI funding sources of the EU (Horizon Europe, Digital Europe, the European Defence Fund and InvestEU). The ministries encourage RDI organisations applying for funding to strengthen their capacity to apply for and utilise international RDI funding.