LOTUS Webinar Series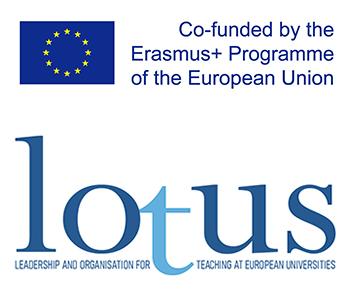 The Finnish Ministry of Education and Culture is organizing a series of webinars aiming to start the policy dialogue as part of the Erasmus+ funded LOTUS project. LOTUS - Leadership and Organisation for Teaching and Learning at European Universities - aims to contribute to capacity building and strategic change management for learning and teaching at higher education institutions across Europe.
The webinar series consists of three parts of which each has its own theme.
The webinars will be held in English.
Part 1. Leading transformational change
Wednesday 1st September at 14-15 (CEST)
The aim of the webinar is to look into the transformational change in HEIs by taking advantage of digitalisation and building on cooperation. Our contributors will discuss how to lead transformational change that builds on new kind of collaboration and sharing of resources by using digitalization between HEIs but also with other actors. As a case example there will be Finnish Digivision 2030 project involving all Finnish HEIs. After the case example there will be a panel discussion on the webinar´s theme.
The panel participants are
Mr. Georgi Dimitrov, Head of Unit Digital Education, the European Commission
Dr. Màrius Martínez, Vice-Rector for International Relations at the UAB and President of the European Consortium of Innovative Universities (ECIU), Spain
Dr. Hanna Nordlund, Programme Director, Finland
Dr. Lynn Ramsay, Programme Lead for the Multi-Campus Micro-Credentials Project, Ireland

Part 2. Future-proof higher education – 8th September
Wednesday 8th September at 14-15 (CEST)
Webinar will have a closer look on how could the resilience of the university grow stronger and gear towards forward-looking perspectives in the future? Does our way of organizing teaching and learning work for the changing needs in the future? How could different actors in the society interact with higher education in this regard? Within institutions, what does this mean for curriculum development?
As a case example we will have Finnish Haaga-Helia University of Applied Sciences presenting their way to lead curricula development for diverse needs of learners and work life and the strategic development of learning and teaching based on data and AI. Panel discussion will deepen the theme and bring along the views of universities, businesses and learners.
The panel participants are
DDS PhD Cecilia Christersson, Pro-Vice-Chancellor for Global Engagement and Challenge Based Learning, Malmö University
Mr. Adam Gajek, Policy Advisor on Skills and Entrepreneurship, EUROCHAMBRES
Ms. Henrietta Sundström, Manager, Accenture Interactive, Master Sc. Econ, lifelong learner
DBA, MSc, BSc Pasi Tuominen, Extended Reality Customer Experience Developer, Haaga-Helia University of Applied Sciences
Part 3. Re-valuing higher education teaching
Wednesday 15th September at 14-15 (CEST)
Recent trends in higher education have increased the attention given to the quality teaching. What kind of change management is needed when going towards more learner-centred, personalised teaching and continuous learning? What are the best ways to motivate teachers in the change? How should a stronger link between research and education be promoted and how could leadership in teaching address this? The webinar will explore these questions through one national case example and panel discussion.
The webinar discussions will be moderated by Simo Kekäläinen and involve panelists representing European universities, European Commission, business and learners. You can look forward lively discussions where the panels will share their views on the webinars´ themes.
Case presentation by Mr Christian Tauch, Deputy Secretary-General, German Rectors' Conference
Panel discussion participants
Mr Christian Tauch, Deputy Secretary-General, German Rectors' Conference
Ms Manja Klemenčič, Lecturer on Sociology and Lecturer in General Education, Harvard University Introduction of Ms Manja Klemenčič
Ms Kristel Jakobson, Member of the Executive Committee of the European Students' Union Introduction of Ms Kristel Jakobson
Mr Petri Suomala, Vice Rector, Aalto University
Introduction of Professor Petri Suomala
Vice President for Education at Aalto University as of September 2018. Chair of Aalto's Learning Steering Group which prepares, coordinates, monitors and follows up joint strategic and operative issues in education and learning. Chairman of the board in Aalto Executive Education Ltd.
Before Aalto, Prof. Suomala held the same position at Tampere University of Technology, where he steered the development of educational offerings within the merger process of three universities in Tampere region. He has Academic background as professor of industrial engineering and management.
Webinar is hosted by Mr Simo Kekäläinen
The results of the webinars will be utilized preparing the first policy dialogue event of the LOTUS project, which will be organized the 25-26th of October 2021.
For more information on the LOTUS project, please visit LOTUS (eua.eu)
---